Introducing the AcceL-AerAtor E99 Radon Water Mitigation System:
Learn More about our affordable radon water mitigation system!
Mitigate (Definition) – To alleviate, make less severe, or reduce damage to. In the case of radon water, our goal is to reduce the level of radon gas in the air to levels as recommended by the EPA.
Imagine a radon removal water system that is designed with simplicity in mind. Introducing the AcceL-AerAtor E99 from MCIS – easy to install, operate, and maintain. This radon water mitigation system is over 99% efficient at the removal of radon from your water – yet it has no expensive solenoid valves to fail or replace.
Simple Installation
AcceL-AerAtor E99 is a self-contained radon water treatment system – requiring only one electrical socket to plug in. And it is easily plumbed in with its simplified in/out design. It is the only radon water mitigation unit on the market that offers a differential fill-valve system.
Cleaning the AcceL-AerAtor E99 is simple. Contrary to most other radon removal systems, there are no special tools are required. The entire system unit can be accessed for cleaning without tools. Even a homeowner can do it!
Built to last. The AcceL-AerAtor E99 has full 1″ width connectors for maximum output. Its powerful one-horsepower blower aerates the water while a high pressure, ½ horsepower submersible pump pushes out up to 20 gallons per minute and up to 70 psi!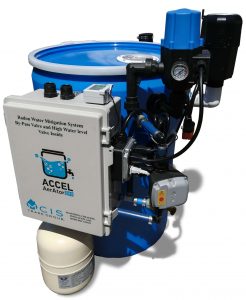 We're so confident in the durability of this radon water treatment product that we stand behind it with an unprecedented THREE YEAR WARRANTY on all the AcceL-AerAtor E99's components!
Reliable and User-Friendly Operation
Worry-free and radon-free! You can sleep well knowing that the AcceL-AerAtor E99's is working 24/7. Its state-of-the-art alarm notification system will alert you to any issues with the system. There are no complicated electronic controls. You won't have to reset clocks, or reprogram it after a power failure. Once installed it has fully automatic operation, and is worry-free.
Best of all, the AcceL-AerAtor E99 is very affordable when compared to other radon water mitigation systems available on the market today!  Call us today for pricing or visit the product website at https://www.mcis.biz/ for more information about our new radon removal water system!