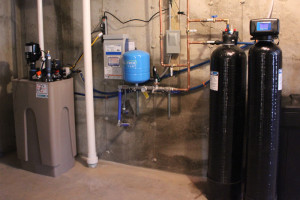 Water chemistry is complex. Finding the best water treatment system in New Hampshire for your home involves more than a Google search or a trip to the local home improvement store. One type of water filtration system may work well on one or several water quality problems but not others. Designing customized home water treatment systems is what we do for our clients. A professionally designed system from Absolute Water System saves our clients' money because we use the latest technology and target only those water quality issues that need to be addressed.
In-and-Out or Backwash? The majority of our systems fall into two categories:  in-and-out or backwash systems. An in-and-out system is just as it sounds. Water comes in, is treated within the tank and released. These in-and-out systems trap contaminants in a filter media that we customize based on the water quality issues that need correcting. Over time, in-and-out water systems will require periodic maintenance.
Backwash systems perform similar to an in-and-out, except they are "self-cleaning." Impurities attach themselves to the filter media in the treatment tank and are collected there. In a backwash system, there is an additional tank containing a cleaning agent or "regenerator." An automated timer schedules periodic back-washing of the filter media within the tank and disposes of the impurities that have attached to the filter media through a tube draining outside. Examples of a backwash system would be a water softener using calcium chloride or an acid neutralizing system that uses hydrogen peroxide.
Customized Systems and Customized Tanks. At Absolute Water System, we not only design the components to your system, we also customize the filter media inside. We literally "build your system." Your filter media could vary from resin beads to coconut fibers to carbon. We like the option of building our own systems because we can choose the best tank, the best filter media, and the best programming system technology available on the market.
Support. Although the systems we install are virtually trouble-free, they do require annual or bi-annual maintenance. Absolute Water System provides 24-hour emergency support, and our clients can opt for to be placed on our automated maintenance schedule. We stand behind every system we install 100%.
We want you to enjoy trouble-free, pure clean drinking water for many years to come!
To read more about the systems we install for our clients, click on the link below:
Reverse Osmosis Systems (whole house)
Drinking Water Systems (point-of-use)